How Does Hummingbird Affect SEO Strategy?
So Google begrudgingly admit that they have changed something! Throughout September forum chatter was offering their explanations and reasons for  SERPS activity oddities, but no-one could have foretold what was really happening…
A complete overhaul of their algorithm, the first since the 2001, take into account it was also their 15th birthday and you suddenly begin to understand its importance.
So what is Hummingbird?
In short, Hummingbird is focused on ranking information based on a semantic search, intelligent understanding of search requests. Currently, well pre-September 2013, results reflect the matching combination of keywords that a search phrase contains, rather than the true meaning of the sentence itself. Results returned by Google, since the roll out of Hummingbird, will be derived from the full semantic meaning of longer search phrases, thus, in theory, returning more accurate results.
Search phrases containing words such as "how", "why", "where" and "when" alongside content keywords, will be given more emphasis in Google's organic search rankings, thus shifting the focus from "results" to "answers".
Why?
Google, with the introduction of Hummingbird, acknowledges that the number of mobile voice based searches is increasing exponentially, differing from keyboard typed queries. Amy Leefe  of Arketi Group, a high tech B2B PR and digital marketing agency sums it up in a nutshell…
"Hummingbird's emphasis on conversational search queries and natural language parallels the growth voice powered search via iPhones and Android devices. Google has been driving toward deeper support for long-tail queries for some time, and Hummingbird takes this further by concentrating on answers versus data."
Leefe offers an example to highlight the difference, "For example, people may type things like 'buy yoga mat Buckhead' in Google on a browser, but would say a command verbally such as, 'What's the closest place to buy a yoga mat to my home?' A traditional search engine might focus on finding matches for keywords, such as finding a page that says 'buy' and 'yoga mat,' for example."
Leefe continued, "It may better understand the actual location of your home, if you've shared that with Google," she said. "It might understand that 'place' means you want a brick-and-mortar store. It might get that 'yoga mat' is a particular type of workout supply carried by certain stores. Knowing all these meanings may help Google go beyond just finding pages with matching words."
So How Does Hummingbird affect SEO strategy?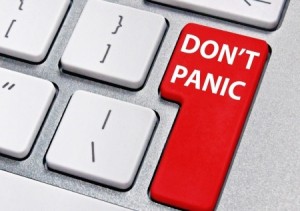 Firstly, it is important to understand that the classic rules still apply. Publishing unique, relevant quality content and links from authoritative sources will continue to boost your search rankings. In my opinion, it will in the long run make an SEO strategy easier.
Take this post for example, the title is purposefully written in the form of a question, if I then answer the question using the aforementioned authoritative, quality content then the content will be one step closer to rising to the top of search.
Yes it will involve businesses adjusting their thinking and moving away from the traditional keyword dense content and towards copy that actually answers the users query. When creating content, businesses should ask themselves what their target customers are likely to ask and then, simply answer them with that bedrock of highly relevant content.
So, I'm saying don't panic! The Hummingbird update is not a call to change, but a strengthening of good SEO strategies to help users find the information they requested.
There are other aspects aligned to Hummingbird which affect the work of an SEO professional, namely the "not provided" keyword data in Analytics, but that will have to wait for another question based post!
Onwards…
Find Out More About The Author John Wallace